Hit the ground running and enjoy a walking tour of Sydney to stretch your legs after the long flight from home. This is a great way to beat the jet lag and explore this city beautiful city. Tours are for a minimum four hours, but be reassured that this is a leisurely and informative way to explore inner Sydney, taking in the sights and sounds of this beautiful city.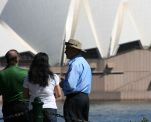 Itinerary

Your guide will meet you at your hotel or shipside for an informative and relaxing walking tour of inner Sydney.

Your guide will take you on a voyage through the history of Australia's leading lady, from city sights to the infamous Rocks area, which bustles with art boutiques, delicious food, and a culture all of its own. Rich in history, the Rocks has a feel all of its own, and has become a vibrant part of inner Sydney's culture.

We take a short walk along the promenade of the Harbour Bridge, overlooking Sydney's beautiful harbour and the magnificent Sydney Opera House, before returning to the vibrant Circular Quay area. Overlooking your cruise ship, if it is in port, the Circular Quay is a major transit area, with the ferries and trains all bustling for attention as commuters and tourist flock to this area.

We will stroll around the outside of the beautiful opera house, perhaps the most famous building in the entire world. Find out how this incredible building very nearly didn't happen at all.

You will stroll through the Domain and take in the sights of the Government House, as well as some of Sydney's wonderful museums and art galleries.

If time permits we can board the monorail for a look through Darling Harbour before returning to your hotel or ship to relax after a full day.
Duration 4 hours
AM 0830-1230
PM 1330-1730

What you will see
The Historic Rocks area
Sydney Opera House
Botanic Gardens

Whats Included
Expert guide

General Info
This tour is a small group tour with a private guide. Walking required on gentle inclines and some steps. Please wear comfortable shoes and clothing

Meals
No meals are included in this tour.

Conditions
This tour requires a minimum of 4 persons to operate. The group size will not exceed 10 persons.

For larger groups please contact us for details

Please see our Booking Terms and Conditions