Experience the unforgettable thrill of cruising on Sydney Harbour in classic style and comfort while enjoying a delicious Aussie BBQ lunch on board a historic sailing ship.

If you'd like to heave on a rope you can - otherwise simply sit back, relax and enjoy the entertainment provided by the crew, chef and the barman - all of whom are at your service!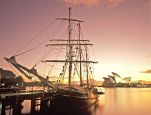 Itinerary

Experience the unforgettable thrill of cruising on Sydney Harbour aboard an 1850s style timber tall ship. No other cruise can match the perfection of discovering Sydney Harbour beneath the billowing sails of "Southern Swan" - the Flagship of the historic First Fleet Re-Enactment.

Departing Campbell's Cove we cruise past the impressive Sydney Opera House. We pass by Fort Denison, that has been at the heart of the Sydney Harbour for over 150 years and over that time has had a varied past – it has been used as a fishing spot, defence structure, navigational guide, tide gauge station, weather station, time marker and now a restaurant, events space and historic museum. People flock to this island to watch the impressive fireworks on new years eve and other celebrations.

Admiralty House is another significant landmark that we will see, which is the office residence of the Governor General of Australia. It is located in the suburb of Kirribilli, on the northern foreshore of Sydney Harbour and enjoys commanding views across the harbour.

A delicious Aussie BBQ lunch will be served on board, and you can then spend your time watching the crew climb the rigging masts to set the sails or even take the opportunity to steer this beautiful boat under the captain's expert guidance. You can help hoist the sails or simply sit back, relax and enjoy beautiful Sydney Harbour. Towards the end of the cruise we sail under the Harbour Bridge and back into Campbell's Cove.

Duration 2.25 hours
Start 1315
Ends 1530

What you will see
Sydney Opera House
Harbour Bridge
Views of Admiralty House

Whats Included
Interactive experience
Chance to take the helm
Informative comentary

General Info
The ship will sail in wet weather - tickets will not be refunded due to rain. Bring wet weather gear if it looks like rain – it is all part of the adventure.

Meals
A BBQ lunch is included

Conditions
This tour requires a minimum of 4 persons to operate. The group size will not exceed 85 persons.

Please see our Booking Terms and Conditions