To get a real understanding of the world famous Sydney Opera House and its dramatic location on the stunning Sydney Harbour, join us on an informative tour of the Opera House to learn the story of its design and construction, then a short water taxi ride will bring you to Rose Bay where your Seaplane is waiting to whisk you aloft for one of the best views of the Opera House from 1000 ft above, flying around the Harbour you can see many other famous landmarks as well.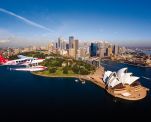 Itinerary
Enjoy a unique combination of exploring the Sydney Opera House from the inside then take to the skies and see this architectural wonder from the air. Come backstage with us with a Sydney Opera House Essentials tour that will take you on an emotional journey, engrossing you in a story to rival any opera plot and explaining how this miracle of architecture and engineering came into existence against impossible odds, this building was nearly never built. More than 60 years ago, Jorn Utzon designed what is now considered one of the greatest buildings of all time. But for Utzon, the Sydney Opera House story was no fairy tale. The Essential Tour brings to life the saga behind the making of the world's most famous house.

This tour puts Jorn Utzon on centre stage and is a tribute to his creative genius. You will discover why Utzon was more than an architect: he was an architect of change. And how, against a landslide of political and public criticism, he created the youngest building ever world heritage listed. We'll take you inside one of our working venues to experience the magic behind the world's most extraordinary opera, ballet, symphony and dramatic performances.

Then at 10.30 we join a water taxi to take you to Rose Bay to meet your flight in a Sydney Seaplane. Be awed as beautiful Sydney Harbour unveils itself, with stunning sandstone cliffs rising abruptly from the sea. From world-famous Bondi Beach climb to 1000 feet for a truly stunning vista.

We track to the Harbour Bridge and Opera House, and complete a circuit above both famous icons before gently splashing back down to earth in Rose Bay. After landing, your water taxi will be waiting to take you from the aircraft back to Sydney Opera House where you will be free to wander the promenade.


Duration 2 hours
Start time 0845
End time 1045

What you will see
Inside of Opera House
Great scenery
Coasline Views
Opera House from the air
Sydney Harbour

Whats Included
Essential Opera House Tour
Water Taxi to Rose Bay
Seaplane Flight

General Info
A reasonable level of mobility is required as there are many steps within the Opera House. Passengers must make their own way to Man O' War steps, situated on the eastern side of the Sydney Opera house at the entrance to the Botanic Gardens.

Meals
No meals are included in this tour.

Conditions
This tour requires a minimum of 2 persons to operate.

For larger groups please contact us for details

Please see our Booking Terms and Conditions