For the more adventurous, the world famous Sydney Harbour Bridge Climb offers you a unique view of the city. Climbing 134 metres [over 400 ft] above the water, but on the easy 465 widely spaced steps, its not as difficult as you would imagine, but you will need a steady head for heights. The views will be truely amazing, give it a go, another one to tick off your bucket list!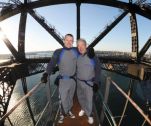 Itinerary

The Bridge Climb is a 3 ½ hour guided journey to the top of the Sydney Harbour Bridge. It takes you along the outer arch of the Bridge on catwalks and ladders all the way to the summit, 134 metres above Sydney Harbour.

Groups of up to 14 people will be in your climb and you'll be led by one of BridgeClimb's professional Climb Leaders on an adventure of the world's most recognisable Bridge. The steady incline to the summit leaves you free to focus your attention on your Sydney experience, with opportunities to witness 360 degree views of Sydney, including east to the Sydney Opera House, west to the Blue Mountains and the Harbour city surrounds.

When you reach the top you will have a sense of achievement that you will remember forever - you've conquered an Australian icon recognised the world over! The Bridge Climb is the ultimate Sydney experience.

The Climb is completely safe as you will be supported all the way to the top. When you reach the summit and see the city set out below, you'll have an amazing sense of accomplishment that you've never felt before. Nothing can match that feeling of personal achievement you will gain when you overcome your fear of heights as you climb 134m into the sky on top of the world's largest steel-arch Bridge.

For the duration of the Climb, you will be attached to a static line on the Bridge, ensuring you feel safe, secure and comfortable at all times

During the Climb, participants walk along flat, inclined mesh catwalks; Climb up and down four flights of stairs; Climb 465 widely spaced steps on the arches; and step over, duck under and squeeze through girders. There are hand rails along the route providing support all the way to the top.

Duration 3.5 hours
Times throughout the day

What you will see
Spectacular scenery and views

Whats Included
All safety equipment and safety briefing

General Info
A reasonable level of mobility is required to partake. The climb is gentle and over a period of time. There will be an alcohol breath test prior to undertaking the climb, and your climb may be delayed if alcohol is present.

Meals
No meals are included in this tour.

Conditions
This tour requires a minimum of 1 persons to operate.

Please see our Booking Terms and Conditions