Join us on a genuine Wildlife Safari to the Southern Highlands behind Sydney. We see kangaroos, emus and wombats most days, and might be lucky enough to see koalas and playtapus in their natural environments. The Australian bush is an unexpected highlight and dinner is on us.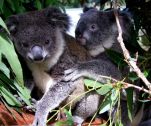 Itinerary

This is an exceptional opportunity to venture into the Australian Bush in search of Australia's iconic native animals. We like to call them Australia's Big 5! - Koalas, Kangaroos, Platypus, Emus & Wombats - all classic Australian natives that you won't find in any other place on earth.

This is an in-the-wild experience, travelling to private farmland and swathes of quintessential, pristine Australian Bushland in the Southern Highlands, just 90 minutes south of Sydney. You'll travel in a luxury 4WD equipped for great wildlife-viewing with a specialist Naturalist Guide to interpret all you see. Walk through towering forests of Grey Gums in search of koalas, look for platypus along the riverbanks, and drive through woodlands and pastures as mobs of kangaroos and emus feed. Unlike other tours we depart at mid-day so that we can be in these wild animals natural habitat at their most acitve time - dusk.

This is a genuine Nature trip, so every day is different. We see kangaroos, emus & wombats most days, platypus about 70% of the time, & koalas about 80% of the time. There's also a host of birdlife, as well as possums, gliders and other iconic Australian animals.

The Australian Bush is an unexpected highlight. See and understand classic Bush in a remote location where you won't see another soul. You're accompanied by a Naturalist Guide to explain all you see and help you understand why Australia's wildlife & environment is so unique

After dinner, a night-spotting foray lets you see nocturnal wombats, gliders and possums. We follow Nature's guidelines, seeking out the animals when they're most active, with a noon to evening tour that includes a light lunch and hearty country-style dinner in one of Australia's oldest country inns.

This is an exceptional way to see Australian wildlife in its natural environment.


Duration 10 hours
Start time 1200
End time 2200
Tours times may vary according to season

What you will see
Native Australian wildlife that could include
* Koalas
* Kangaroos
* Wombats
* Emus

Whats Included
Collection from your hotel
Comfortable Transport
All sightseeing & touring with expert driver/guide
Exceptional Viewing
Binoculars provided

General Info
This tour is a small group tour with a private guide. Walking required on gentle inclines and some steps. Please bring warm gear including a hat, fleece or jacket for evening spotlighting, as well as sun protection for the day.

Meals
Lunch and Dinner are included in this tour.

Conditions
This tour requires a minimum of 2 persons to operate. The group size will not exceed 10 persons.

For larger groups please contact us for details

Please see our Booking Terms and Conditions